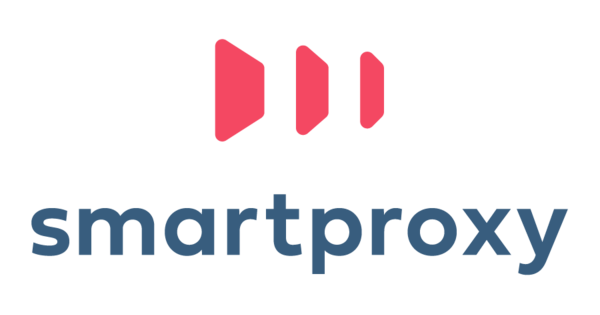 Smartproxy Review 2022 | Everything You Need to Know About
June 29, 2022
Off
By
The Review Star
In the residential proxy industry, Smartproxy is among the most reputable names. Smartproxy is a high-quality residential proxy provider that offers 24/7 technical support, an intuitive dashboard and high-quality proxy pools. Find out everything you need to know about Smart Proxy and their proxy services by reading our review. Because their capabilities include data scraping performance, data scraping speed, pricing, residential IP address distribution and customer service.
Product information
Product: Smartproxy
Price: Starting from 39$/Month
Category: Software & Services
Smart Proxy Overview
Data center and residential proxies are available from Smartproxy as well as a variety of other web scraping tools. This company has quickly become the market leader in the proxy market having started in 2018. Now, Smartproxy is probably the third largest proxy provider in the world. Over 195 locations around the world use Smartproxy, making it one of the most widely used residential proxy providers. The provider offers four different types of proxy. In addition to offering city- and state-specific targeting, These are Residential, shared, and dedicated data centers. As well as search engine proxies.
The users of these proxies claim that they are unblockable and undetectable. However, others on the other hand find that they are reliable and safe. The pool of ten million IP addresses makes sure that there is no risk of you being blacklisted or banned due to your IP address. If you are looking for a proxy service that provides fast, anonymous, and safe access. Then Smartproxy may be of interest. Whether it's sneakerheads, social media managers, or smaller businesses. Smartproxy is the tool of choice not just for Fortune 500 companies.
Despite being a more affordable alternative to many of Smartproxy's premium competitors, it offers a similar level of service. Smartproxy offers four different types of proxies. Residential and datacenter proxies are the most common. Apart from these, Smartproxy also provides Search Engine Proxy services and scraping APIs. These combine web scrapers, proxy servers, and data parsers. Dedicated static datacenter proxies from the US are available from Smartproxy if you need private IPs.
There are many uses for Smartproxy's proxies. Including Scraping, SEO monitoring, Ad Verification, Data collection, Link testing, Price comparison, Travel fare, Cybersecurity, Managing Social Media Accounts, Brand protection, and Online shopping.
The smartproxy features
Using a proxy is a good way to enhance your internet anonymity. However, you must configure a proxy correctly for it to be effective. When you use Smartproxy, you can rest assured that all your online activities are anonymous. And that your IP address and general location are always kept private.
With Smartproxy, automatic sessions can be rotated or prolonged for up to 10 minutes without user intervention. So all you have to do is set these parameters:
Geo-targeting with random IP addresses or proxy locations

There are two types of sessions: Rotating and Sticky
Once you've accessed the targets, you can access them.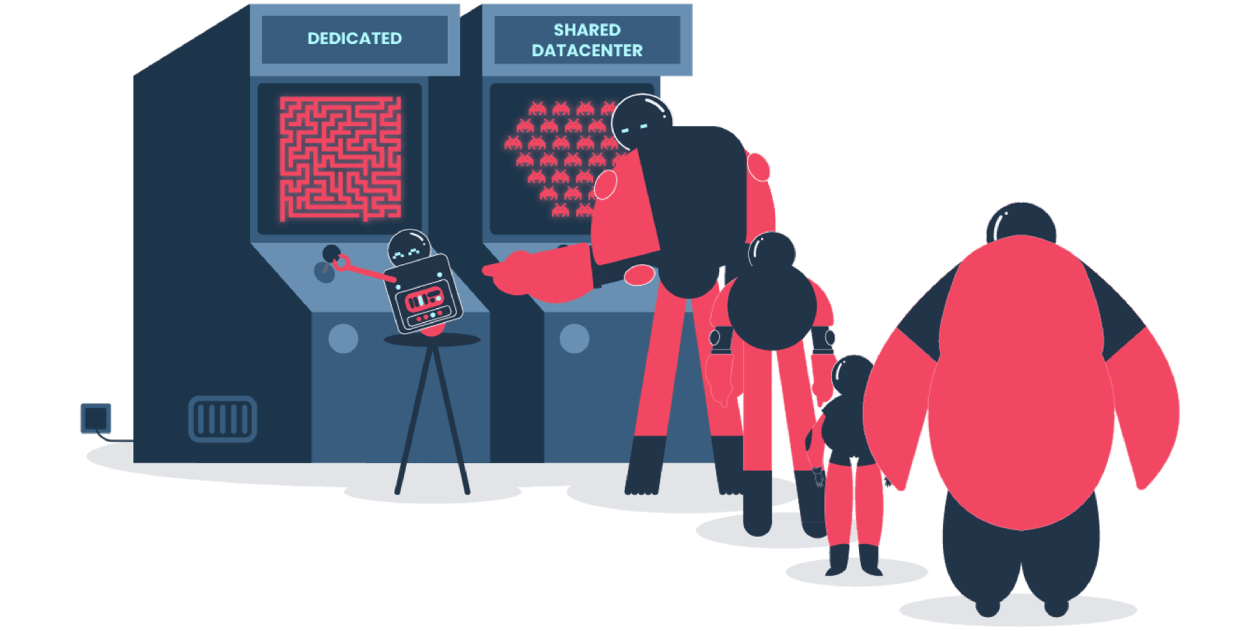 Whatever proxy provider you end up choosing, you want to make sure their customer support is there to assist you if you encounter any issues. The company provides customer support via email and live chat 24 hours a day, seven days a week.
IPv4 addresses are available in millions on Smartproxy. As well as HTTP and HTTPS protocols, they support a number of other important protocols. Proxy servers avoid sending any information that could compromise an individual's anonymity in HTTP header requests.
Over 195 Smartpoxy locations are available around the world. Smart Proxy can be used in almost every country and almost all major cities around the world.
Money-back guarantee for three days.
The company does not offer a free trial, but they do offer a 3-day money-back guarantee. So if you are not satisfied with their services. You can request a hassle-free refund within three days by contacting them. Users who have used more than 20 percent of their plan's traffic are exempt from this rule as are buyers of bitcoins.
How does Smartproxy work?
It couldn't be easier to get started with Smartproxy. Just create a dashboard account and you're ready to go. Proxies are self-explanatory – if you have problems understanding this, proxies are probably not for you. A smart proxy subscription can be created by going to their official website (www.smartproxy.com) and clicking on the link which says, "Access dashboard.". After clicking the 'Register' button, you will see your dashboard for the first time. Your email address and a strong password are required once you answer the question regarding how their proxies can help you.
Then, you must choose the plan best suited to your needs after you have created a new account. The dashboard is accessible once your account is registered. Your dashboard provides access to your account settings, information about your subscription and traffic reports for the projects you have currently running.
From the corresponding menu on your dashboard, you can then create sub-users after setting up a plan. Each project can be assigned its own user.
Product information
Product: Smartproxy
Price: Starting from 39$/Month
Category: Software & Services
The functionality of smartproxy proxy
There are a number of impressive features included in Smartproxy. The aspect that was mentioned previously is that you have a choice of four types of proxy servers: a private, shared and a private datacenter along with search engine proxies. Currently, all the proxies seem to be IPv4 (the good kind), and HTTP and HTTP(S),S) protocols are supported. But SOCKS5 isn't.
Residential or Data Center Proxies have no connection limits which means you can define thousands of connections at once. This means that if you want to, you can use multiple proxy servers at the same time.
Smart Proxy is one of the best residential proxies we've reviewed for scraping data from the Internet. It's more functional than many other proxies with larger IP pools because it has over 40 million residential IP addresses in 195+ locations worldwide. In fact, only Luminati scraped better (scoring 93) than Smartproxy (scored 90.2). This isn't much of a difference.
Each time a connection request is made, you can choose to rotate IP addresses automatically. The IP address can be maintained for 1 minute, up to 10 minutes or even 30 minutes. With Smartproxy residential proxies, you will never have to worry about compromising your security. Or anonymity when scraping, testing ads, buying limited-edition goods or crawling.
Smartproxy's datacenter proxy list is fairly limited. The list rotates automatically and gives access to all IP addresses. As a result, they are very useful when scraping unprotected websites. Datacenter proxy pools are crafted in highly advanced data centers and consist of over 40,000 IP addresses. Unlike residential proxy pools which may be associated with ISPs. There is also no possibility of specifying a specific city or state. Locations are only available in the United States. Yet, the datacenter proxy services are extremely affordable, allowing everyone (even those with very limited budgets) to take advantage of the service.
A backconnect gateway server is used to provide Smartproxy's datacenter proxies. Rather than IP lists, one address is provided instead. The proxy settings are automatically changed.
Dedicated Datacenter Proxies
Having added dedicated datacenter proxy services (they have now become a full-service proxy provider) offering residential and datacenter proxy services under one roof. After launching a residential proxy network, Smartproxy then added rotating datacenter proxies to the list of proxies available. And now they offer dedicated datacenter proxies as well.
In addition, the platform provides dedicated datacenter proxy services that give you complete control. The following services are provided by these private proxies: Unlimited GBs, Private US IPs, 99.99% uptime, Unlimited Threads, as well as randomized IP addresses. Integrated management and 24/7 customer service round out the package.
Smartproxy has the best feature of all that its users will never cease to be surprised by. There has been a brand new tool launched just recently, Search Engine Proxies. Using them guarantees 100 % delivery success from Google Search Engine in HTML format or Parsed JSON format either directly from the raw HTML source or via uploaded attachments. As well as retrieving paid and organic search data, it is also ideal for SEO and price monitoring.
The result is a network of HTTP proxy servers, a scraper, and a data parser. A total of over 40M+ Search Engine Proxy IP addresses have been combined into a pool of Search Engine Proxy accounts. Including both residential and datacenter IP addresses. Advanced proxy rotation is used to automatically rotate proxies on the network.
It is important to understand that search engine proxies offer a wide range of features. Some of these features include: Guaranteed 100% success rate. There is access to any country, state, or city, Raw HTML or JSON results, and The solution is Full Stack.
All types of information from Google search can be obtained using the proxy servers including organic search results, real-time results and keyword rankings.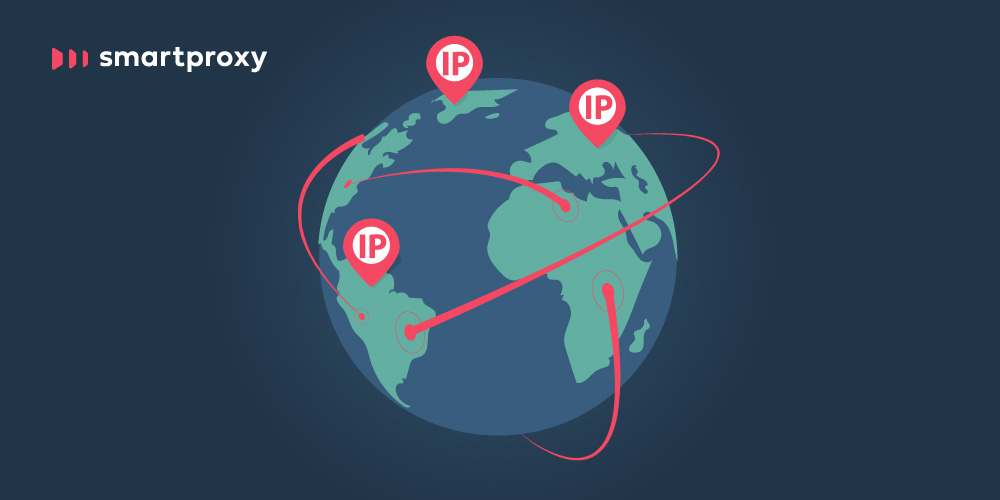 With Smartproxy, proxy tasks are executed using an intuitive user interface. As you can see in the navigation bar, there is a Welcome tab in addition to the tabs that will take you to the 4 proxy types that they offer. Namely, Residential proxy services, Datacenter proxy services, Search Engine proxy services and Dedicated Datacenter proxy services. With the help of these tabs, you will be able to access all of the relevant information about your proxy subscription. Just by clicking on the relevant categories.
It is important not only to consider prices, authentication methods, endpoint generators, and the usage of application traffic. But it is important to also consider subscription management.
The app tabs are also located at the bottom of this page. Choose from Apps, Help and Support, and you'll have access to Live Chat, Help notes and Help requests.
Customers can purchase, renew, and upgrade subscriptions, set up proxies, authorize proxy access, create sub-users, track traffic usage. And contact customer support via the online form.
The Smart proxy dashboard is one of the neatest, most intuitive, and stylish that I have seen among proxy providers. Regardless of your experience level, it is designed to be easy to use, making it easy for anyone to use. There is no need to worry about complicated settings when setting up the proxy.
Furthermore, Smartproxy has extensions that can be installed on X Browser, Smart Scraper, Firefox, and Chrome browsers. These will enable you to select from a residential or a datacenter proxy network while browsing the web. With the extension, you can choose between sticky or rotating proxies and select a country. 
There is a bar that shows your traffic usage under each proxy type tab that is always visible in the dashboard. This feature allows for easier task management and reselling since traffic can be limited for sub-users. Detailed traffic statistics can be viewed by day, week, month, or even a custom period. The report is filterable by sub-users as well. So you can simply get the information you need by choosing the sub-user you are interested in. In addition, you can always top up your account or purchase more GBs at any time if you want more storage.  
The company's residential IP addresses had no major weaknesses according to a recent proxy market research study. Over 16 million requests for connection to eight major residential IP providers were made as part of this extensive market research. One of Smartproxy's major competitors, Bright Data (formerly known as Luminati) scored 93 out of 100 in terms of scraping performance. While Smartproxy scored 90.2.
Tools available in addition
Smartproxy offers a tool for anonymizing users called X Browser in addition to the proxies. You can create multiple profiles that each have their own fingerprint that allows you to identify them. If you use this tool, you will no longer have to worry about IP bans and CATCHAs. Since the website's algorithms will establish you as an individual. Smart proxy also offers a free tool, the Smart Scraper, that is as good as it gets. This is a no-code solution you can use to help you extract and sort the data you need. And all you have to do is click a button to get the data you're looking for.
Smart proxy Apps
Additionally, Smartproxy also provides its own set of custom apps to help you get the most out of your proxy accounts.
The X Browser is a multi-session browser that lets you open multiple Chrome files in new tabs simultaneously (opens in a new tab) for Windows and Mac. Its fingerprints can be customized, so each one can be personalized separately. So when your profiles have been created, you will be able to open new Chrome windows with different IP addresses for each of them.
You can, in theory, scrape elements from a webpage and save them as CSV or JSON with Smart Scraper. The extension is supposed to work in theory, but in our testing it did not work. Even though it displayed no interface, So hey, maybe you'll be lucky. You may use this service for free. So depending on whether this is an essential feature for you. You may want to test it before you buy.
This desktop software allows you to generate proxy lists with a maximum size of 49,999 lines of proxies on Windows and Mac.
Chrome and Firefox extension
It is also possible to test the proxies directly from your browser with a simple Chrome and Firefox extension. The process of setting up your authentication goed as follows: choosing a location, a session type (rotating proxies or 'sticky') and connecting to the service is done in just a few seconds.
Smart Scraper wasn't very impressive to us due to its lack of functionality. And you may not even need all of these apps. The X Browser and the browser extensions were very useful to us. And it's great to see a service which provides such an array of choices to its users.
Pricing for Smartproxy
With Smart proxy, you can't beat the prices when it comes to residential proxy services. In fact, this is one of the company's most important advantages. There are several plans available so that you will be able to find something that best suits your needs. The company's pricing is based on traffic with a subscription that automatically renews. But they also offer a 3-day refund policy.
In addition to Smartproxy's three basic residential proxy pricing plans, it also offers six more specialized plans: Micro, Starter, Regular, Advanced, Premium, Professional, and Enterprise. There are several plans available. Which come with a limited amount of bandwidth. But allow access to the 10 million IP addresses pool, which are real devices with IPv4 addresses. The price starts from $75 on Micro plan with 5GB of traffic included. The price per GB gets lower with every plan.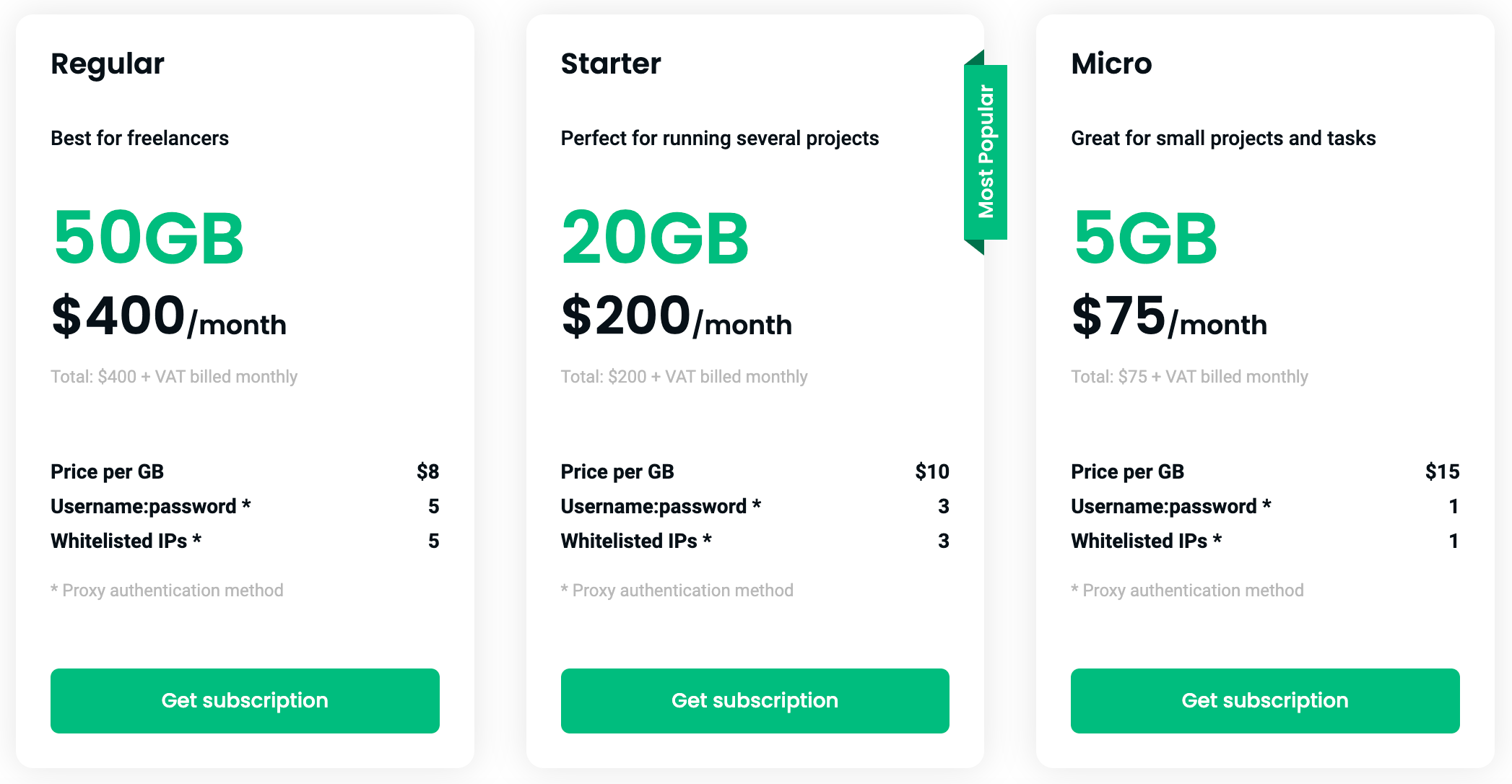 Data center proxies from their resellers are relatively cheaper. With packages ranging from $50. Which provides 100GB of traffic to $500 a month. Which provides up to 1TB of traffic. You should note that the user limits for residential proxies and data center proxies differ greatly from one another. There is a wide variation between 1 and 100 users for residential proxies. The limits for data center proxy connections. On the other hand, are between one and ten.
There are plans for Dedicated Data Centers, Search Engines, and Resellers as well on the platform. So in the dashboard, you have the option to buy and upgrade plans from within. As well as a 3-day money-back guarantee.
Product information
Product: Smartproxy
Price: Starting from 39$/Month
Category: Software & Services
Smart Proxy Pros and Cons
Pros
Guaranteed money-back for 3 days.

Live 24/7 support is available.

Confidentiality

Rotation of proxies.

A high level of reliability

The IPv4 protocol and HTTPS

It's 100% safe for you

Subscription recurring every month

The price is $10 per GB with 20 GB included

A limitless number of IP addresses

Subscriptions that renew automatically each month
Cons
There is room for improvement in customer support

Pricing options for SMBs need to be improved
Final verdict
As the name suggests, Smartproxy is a large proxy network that offers a convenient collection of management apps. These allow you to handle your proxy settings. Despite its safety and undeniably high quality, Smartproxy is a fantastic service in the industry. When used instead of a business VPN, Smartproxy offers a number of benefits. There may be some shortcomings in security, but it provides superfast connections. Long distance residential IP addresses maintain these speeds.
You can ensure the security of your identity at all times with a network containing more than 40 million proxy addresses. As well as a rotating residential IP system. Depending on which plan type you choose, there are different tiers for it. Such as a datacenter plan, dedicated datacenter plan, residential plan, search engine plan, and reseller plan.